Dickens of a Christmas Celebration
Dickens of a Christmas Celebration

2018 Dickens of a Christmas Schedule – Tentative (Click Here)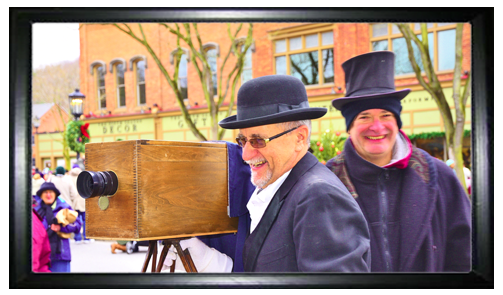 Are you looking for a getaway weekend to rekindle the old fashioned Christmas spirit? Then plan to join us in Wellsboro on Saturday, December 1st, 2018 for the 35th annual Dickens of a Christmas. Wellsboro's Main Street and the surrounding side streets will be closed to traffic and will become an early Victorian marketplace featuring all types of delectable wares for eating and drinking, as well as delightful gift items for wearing or enjoying.
Beginning at 9:00 a.m., the food and craft vendors, strolling musicians and singers, dancers, and street corner thespians will spread up and down Main Street, extending on to Waln and Crafton Street, and a portion of Central Avenue. Performers and vendors will be appropriately costumed and decorated to create a Victorian atmosphere that fits so well with the Wellsboro Gas Lights. With the streets closed to traffic, you have the freedom to stroll and enjoy the festivities.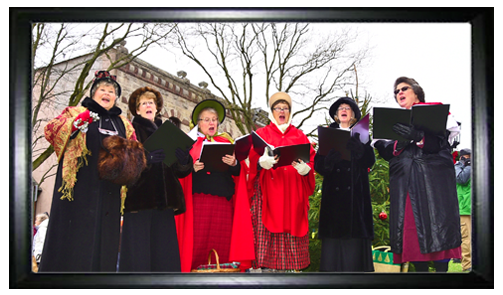 The Wellsboro Men's and Women's Choruses traditionally perform in front of the Arcadia Theater, and you're welcome to sing along. Several other local musical groups typically offer strolling performances throughout the day. Just stop where you happen to be and enjoy tidbits of drama or musical performances.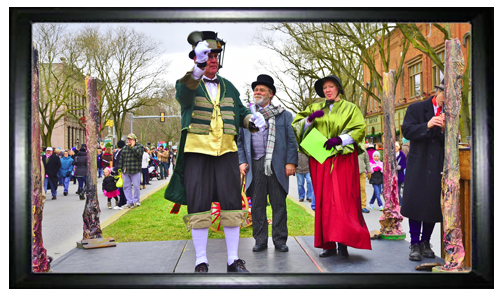 Many of our local churches will host luncheons, concerts, tours or special services throughout the day. Hamilton Gibson Productions will present "A Christmas Carol" at the Coolidge Theater & Warehouse Theater several times, and the Hamilton Gibson Choirs will perform on Friday evening. Tickets may be purchased at the door.
Last year, over 175 craft and food vendors lined the streets dressed in Victorian garb to present many unique gift-giving options which included hand-crafted Christmas ornaments, wooden toys, jewelry, quilted items, furniture, wrought iron, homemade cheese & meats, pet treats, heirloom Santas, stuffed animals and dolls for the children on your list. In addition, several indoor craft shows are held at the United Methodist Church, the Wellsboro Senior Center, and the Firemen's Annex. For a lasting memory, you can have your professional Dickens photo taken at the Deane Center for the Performing Arts.
Numerous food vendors are always on hand to warm your tummies and tickle your taste buds with such delectable delights as hot chocolate, chili, hot dogs, homemade soups and chowders, bread pudding, homemade cookies, pies, and candies, hot beef sandwiches, crab cakes, fresh roasted peanuts, hot cider and coffee, cheddar worsts, kettle corn, baked potatoes, and apple dumpling…just to name a few.
Bring a candle and join us for the Peace Walk from Packer Park at 5:00p.m., which travels up Main Street to the Green for the annual community Christmas tree lighting and carol sing at 5:30. Hopefully, the 2018 PA State Laurel Queen will be on hand to light the giant Christmas tree, and Santa always visits with special treats for the youngsters.
Parking will be available at several lots throughout the town, along with a shuttle which will be operated continuously from the Wellsboro High School parking lot and the Wellsboro Plaza lot on Route 6.
It's always a wonderful way to start your holiday season! For detailed schedule of events with times and locations contact the Wellsboro Area Chamber of Commerce, 114 Main Street, Wellsboro, PA 16901, phone 570-724-1926. The schedule will also be available at local businesses, motels, and restaurants the day of the event.
Third Annual Best Dressed Dickens Showcase


"A Merry Christmas to us all; God bless us, every one!"
A Dickens of a good time!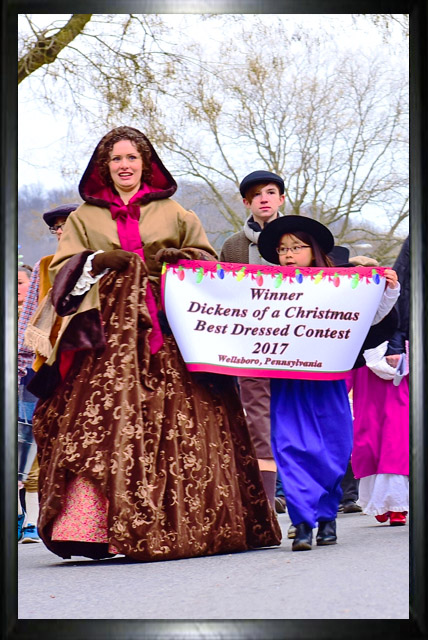 Wellsboro will be hosting their 35th Dickens of a Christmas on Saturday, December 1st. Visitors spend the day on beautiful Main Street in Victorian time-period costume with friends as vendors hawk their wares. The entire town gets into the festivities with traditional music, and Christmas Carols as guests from all over the country join in the celebration! The Main Street Victorian Strolls are at 10:00 am and then again at 2:00 pm (immediately following the Best Dressed Showcase). Watch or join as everyone gets into the spirit of Dickens.
Wellsboro Home Page (http://www.wellsborohomepage.com) is delighted to sponsor the Best Dressed Showcase again this year! Last year's showcase drew over 100 participants. Men, boys, girls, and of course the ladies, wowed audience members and judges with their unique take on Victorian Era styles. Many more just came to take a step back in time by enjoying the presentations or capturing the moment on their phone camera.
John Vogt, Home Page's President, will be the master of ceremonies, joined on stage by Christine A. Moore, owner of Christine A. Moore Millinery of New York. (https://www.camhats.com) Christine will be providing expert commentary and history on the costumes showcased. Our panel of judges will have the daunting task of selecting 'The Best Dressed" for Dickens 2018'.
The winning lad or lass will receive a handsome gift basket of goods donated by Wellsboro merchants and a custom-made hat from Christine A. Moore Millinery. This first place prize valued at over $1,000.00 will be presented to the best dressed! Other fun surprises will be given out as well! For example, the second place winner will receive a gift certificate for a custom-made Christine A. Moore hat and dinner for two at the Penn Wells Hotel that evening. There will also be prizes awarded to the third, fourth and fifth place participants.
Past participants have dressed as Victorian ladies, gentlemen, children, couples, Dickens characters and of course families! Winners can come from any of these groups!
There is no pre-registration required. Just stop by the Deane Center Lobby (http://deanecenter.com) on Saturday, December 1st between 9:30 am to 12:00 pm and sign up. However, if you like, you may pre-register by emailing (sara@thehomepagenetwork.com) with your name and contact information.
Then dressed in your finest Dickens attire, gather at the outdoor performance space by the Deane Center located at the corner of Main Street and Central Avenue at 1:00 PM and let the festivities begin! If there is inclement weather, judging will take place inside the Deane Center.
Then, immediately following the announcement of the winners, please join us for the last Dickens stroll of the day down Main Street!
For more information about the Best Dressed Showcase, contact The Home Page Network offices by calling 570-948-9181.
To help you prepare for this year's Best Dressed Showcase, you can watch past Home Page broadcasts for 2016, and 2017 - get ideas and find out who won on the links listed below!
http://www.wellsborohomepage.com/dickens-of-a-christmas-2016/
http://www.wellsborohomepage.com/dickens-of-a-christmas-2017/
Dickens of a Christmas Map
Edit Page